Main Content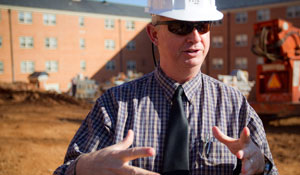 For the last two years, Mike Draughn, director of maintenance and utilities services, has served as the WakeUnited departmental coordinator for Facilities & Campus Services, but his commitment to United Way goes back a lot farther.
"Since the early '80s, my wife and I have made United Way our highest giving priority after our local church," says Mike.  "It's an honor to work with and help coordinate the folks within Facilities & Campus Services.  They are truly some of the most dedicated supporters of United Way and givers of their resources and time of any group I have been affiliated with."
This year, Facilities & Campus Services had a 100 percent response rate and a 94.3 percent participation rate in the WakeUnited Campaign, which is the highest on campus for a department with more than one person.
"As an engineer, I'm somewhat goal driven," says Mike. "Organizationally, I simply want everyone within F&CS to have an opportunity to make an informed choice. With the help of our leadership team working with Dustie Lanier, I think we have improved on that objective both years. I'm most proud to see our folks giving so freely of their limited resources."
Mike says that his commitment to United Way of Forsyth County is not tied to any one thing but to the range of things that United Way supports because the breadth of that support means that many community needs are being met, which he finds very satisfying.
"For me, it's the simplest way to support the largest number of people in a positive way in our community," says Mike.  "WakeUnited's proactive approach to improving the health, education, and financial stability in this county makes me believe this is the best financial way to give back to the community."
Recent Posts
May 22, 2020

May 20, 2020

May 19, 2020