Main Content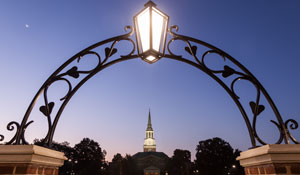 The School of Divinity has received one of ten grants awarded to theological schools by the American Association for the Advancement of Science (AAAS)'s "Science for Seminaries" program.
The project, "Moving Science to the Forefront of Theological Education," will enhance the school's leading interdisciplinary Master of Divinity curriculum by integrating science into biblical studies, historical studies and theological studies.
Several courses in the Master of Divinity curriculum will undergo revision to raise awareness of the relevance of science and increase the competency of future religious leaders who can integrate knowledge and understanding of science into the public discourse of the faith communities they will lead.
"This grant is a wonderful opportunity for the School of Divinity to make the most of its location at a great university like Wake Forest," said Gail R. O'Day, dean of the School of Divinity. "Our students will be even more creative and effective religious leaders because they will be informed and articulate about the scientific perspective and contributions to the issues of our day. And it is so fitting that through this grant we can carry on the deep commitments of President Poteat and the strong history of the University in this area."
Read more on the School of Divinity website.
Recent Posts
May 22, 2020

May 20, 2020

May 19, 2020