Main Content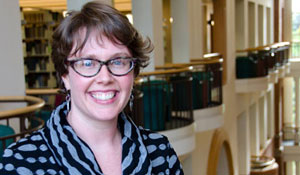 By Sara Hendricks, Wake Forest News Office intern
Access to scholarship has traditionally been reserved for those who subscribe to academic journals or those who attend or work at an institution with subscriptions. A personal subscription can cost upwards of $1,000 per year. Library subscriptions run much higher, with ZSR's most expensive journals costing tens of thousands of dollars.
But what if academic research could become more accessible, more immediate and less impenetrable? This is the goal of the open access movement, which aims to provide "free, immediate, online availability of research articles, coupled with the rights to use these articles fully in the digital environment," according to the Scholarly Publishing and Academic Resources Coalition.
In 2010, the Z. Smith Reynolds Library Librarians' Assembly adopted an open access policy. However, it applies only to library faculty scholarship, not all faculty scholarship, so there's room to grow.
Misperceptions that publishing in an open access journal is less prestigious than publishing in a traditional journal abound, but Scholarly Communication Librarian Molly Keener says some of the most respected journals are published open access.
"Open access journals vet research through peer review, the same as traditional journals. There are a few open access journals that use editorial boards to vet research prior to publication and then enable open review by all readers post-publication," says Keener, who was named an American Librarian Association Emerging Leader in 2011. "But the majority perform standard single- or double-blind peer review and include revise and resubmit cycles. Less rigorous peer review and publication standards can be found with any academic journal regardless of being open access or traditional."
With open access, researchers from top national universities as well as those in developing countries benefit from easy access to the latest research. Making scholarly research available to those who need it aligns with the University's motto of Pro Humanitate.
"By making Wake Forest scholarship more visible, people also learn what our faculty and students are doing, and this helps them get to know our school better," Keener says.
In Wake Forest's Vision 2020, a document reviewing the technological landscape in higher education and offering recommendations for preparing for the future of collaborative, removing barriers to scholarship is key.
"By 2020, I think we'll have an even broader understanding of research sharing that will involve new veins of access that we don't even know about yet," says Keener.
Recent Posts
June 3, 2020

June 2, 2020

June 2, 2020