Main Content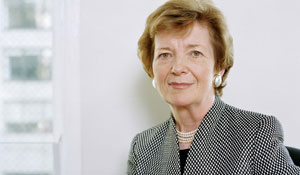 Mary Robinson, President of the Mary Robinson Foundation – Climate Justice will speak at Wake Forest University at 6 p.m. on Thursday, March 26 in Wait Chapel as part of the University's Voices of Our Time speaker series, which recently featured acclaimed civil rights lawyer, advocate and legal scholar Michelle Alexander.
Robinson's address is being presented in conjunction with a two-day interdisciplinary symposium, "The Human Face of Environmental Inequality," jointly sponsored by the Wake Forest University Humanities Institute, the University's Center for Energy, Environment and Sustainability, and the Human Rights and Global Justice research group, an affiliate of the Humanities Institute. The symposium will be held at Wake Forest on March 26 and 27.
"We are honored to welcome Mrs. Robinson to Wake Forest. As a champion for those most vulnerable to global climate change, her work focuses on one of the most pressing human rights issues of our time," said Wake Forest President Nathan Hatch. "An awareness of and concern for global climate justice is critical for our students in understanding that the decisions made in one nation often have broad and lasting effects on the lives of those whose voices may not be heard."
Robinson served as President of Ireland from 1990-1997 and UN High Commissioner for Human Rights from 1997-2002. She is the recipient of numerous honors and awards including the Presidential Medal of Freedom from the President of the United States Barack Obama. She is also a member of the Lead Group of the Scaling Up Nutrition (SUN) Movement.
A former President of the International Commission of Jurists and former Chair of the Council of Women World Leaders, Robinson was President and founder of Realizing Rights: The Ethical Globalization Initiative and served as Honorary President of Oxfam International from 2002-2012. Her memoir, "Everybody Matters," was published in September 2012.
Established in 2006 by Wake Forest University President Nathan O. Hatch, Voices of Our Time brings to campus the world's thought leaders—including scholars, scientists, writers, business and public policy leaders, activists and religious leaders—for discussions on the important national and international issues of our time.
Recent Posts
June 3, 2020

June 2, 2020

June 2, 2020