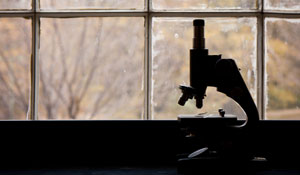 Despite a government shut down and more competition for limited funds, Wake Forest researchers increased awards by one million dollars over last year, according to the Office of Research and Sponsored Programs (OSRP).
OSRP has published its annual report for FY14. Externally sponsored awards increased by one million to $10,839,255. This total does not include fellowship support for scholarship in the social sciences and humanities.
"This total represents the second best in WFU history," said Lori Messer, OSRP director. "FY14 was an exciting year for research and scholarly activity at the university."
The number of departments, centers and colleges receiving externally sponsored awards increased 18 percent over last year and more than half of those that received funding received more than last year. Researchers submitted 139 proposals overall.
OSRP significantly increased its support for internal grants as well. New this year were cross-campus internal grants focusing on new research collaborations, said Messer, that resulted from a partnership between the Associate Provost for Research and the Translational Science Institute at the medical school.
OSRP also manages related matching and cost share funds. Messer said nearly $121 thousand was provided for sponsored project cost share, high-speed computing, open-access publishing, faculty workshops and conferences, and other internal grants.
OSRP has a new research website that Messer said will improve access to all research-related links. More information and research highlights can be found in the annual report.