Main Content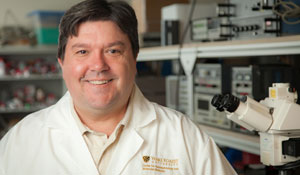 Physics professor Dave Carroll, director of Wake Forest's Center for Nanotechnology and Molecular Materials, was featured recently on CBS' Henry Ford's Innovation Nation for his research team's development of Power Felt. Power Felt is a promising new thermoelectric device that converts body heat into an electrical current.
Watch the segment here.
Comprised of tiny carbon nanotubes locked up in flexible plastic fibers and made to feel like fabric, Power Felt uses temperature differences – room temperature versus body temperature, for instance – to create a charge.
Carroll told Innovation Nation's field host Alie Ward: "I've always loved laboratories. I like the smell of them, the hum of them, and I like playing with things. I guess you could say that I've always been a physicist at heart."
Right now, when you want to charge your cellphone in an airport, you look for an outlet, but in David Carroll's world, you may one day wear clothes that generate electricity. So you might just need to take a walk to add a little charge to your phone.
"I don't see power as only what comes from that plug. I see power as mobile, power as dynamic, power as you, your motion, the heat that you generate," Carroll said.
Recent Posts
July 14, 2020

July 13, 2020

July 13, 2020