Main Content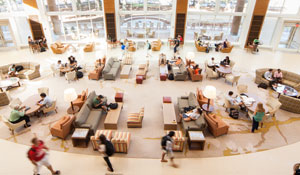 A message from Dean of the School of Business Charles Iacovou and President Nathan O. Hatch
This morning, the Wake Forest University School of Business announced it is refocusing how its MBA program is delivered based on the changing needs of the market. We determined that the best value for Wake Forest's employer partners and students are programs that focus on professional development without interrupting careers. Current data shows that more students prefer flexibly delivered programs that allow them to continue working, enrolling at twice the rate as traditional daytime MBA programs.
In the past five years, Wake Forest has experienced double and triple-digit growth in its MBA programs for working professionals and its pre-experience graduate programs. To allow Wake Forest to focus on emerging opportunities and continue to expand its successful and flexible MBA, the School announced today that it will no longer offer incoming students admission to a traditional daytime MBA program.
There will be no changes for MBA candidates currently enrolled. They will continue to receive the same high-quality graduate business education they came to Wake Forest to pursue. Similarly, permanent faculty and staff members will continue to have roles at the School of Business.
While Wake Forest is not the first business school to focus on pre-experience and flexibly scheduled graduate education, it is the most prominent. The change in its MBA program is also not the first time Wake Forest has made bold moves at the forefront of national higher education trends, having been among the first in the nation to offer a pre-experience master's program that uniquely blends liberal arts and business education, the first top-30 national university to implement test-optional undergraduate admissions, and the first University to appoint a Cabinet-level career development professional.
As Wake Forest prepares tomorrow's business leaders for an ever-changing global economy, we must be nimble and innovative in how we educate them today. We believe redefining the Wake Forest MBA is the right move for our students, our alumni, our employers and our institution.
Recent Posts
October 28, 2020

October 27, 2020

October 22, 2020