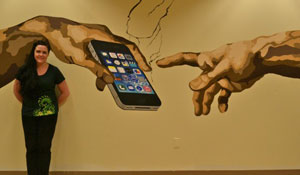 Law library specialist Holly Swenson is a designer and artist who, in addition to her other responsibilities, also helps produce the law school's alumni magazine, The Jurist.
When construction began in the basement of the Worrell Professional Center, Swenson saw the opportunity to use one of the walls as a canvas to practice painting a mural. The result is a modern take on a portion of Michaelangelo's "Creation of Adam."
Read more about the mural in a Q&A with Swenson written by School of Law Communications student intern, Rachel Wallen ('17)
Visit the law school library's service desk for help in finding the mural, which will be available for viewing through the fall semester.
Recent Posts
May 6, 2021

May 5, 2021

May 5, 2021