Main Content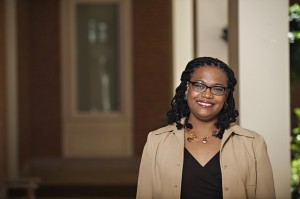 Wake Forest law professor Tracey Banks Coan has been named the law school's first assistant dean for academic engagement.
"Professor Coan stays on top of the literature about the best teaching and best learning techniques in legal education," says Interim Dean Suzanne Reynolds ('77). "This new position helps insure that her insights will shape what faculty and students experience at Wake Forest Law."
Coan teaches commercial law courses and directs the Academic Engagement Program (AEP).  The AEP enhances law students' academic performance through skills workshops, study groups, specialized courses and individual mentoring.
"Over the years, Tracey has optimally led our academic achievement efforts and garnered huge dividends for our students and the law school," says former Dean Blake D. Morant, who appointed Coan. "During these challenging times in legal education, Wake Forest Law has, and will continue to benefit, from Tracey's adroit guidance and efforts."
In her new position, Coan hopes to be a resource for both students and faculty in developing ways to enhance teaching and learning at Wake Forest Law. Her appointment was effective July 1, 2014.
"Wake Forest Law is committed to creating the best learning experience for all students," Coan stressed. "Though excellent classroom teaching and AEP's supportive programs, we are working to make sure that students' investment of time and money at Wake Forest will prepare them for successful careers."
Throughout the fall semester, Coan will offer a series of workshops for first-year students to help them understand the importance of fully engaging with the law, both inside and outside of the classroom.  This series will provide specific guidance in developing the precision, discipline and professionalism required for law school success.  In addition, the workshops will reinforce the transferability of these skills to the practice of law.
As a professor who works hands-on with students, Coan understands that as expectations for law students are changing, their study habits and overall approach to learning must change as well. Students say the lessons they learned in Professor Coan's Secured Transactions course challenged them and gave them the confidence they needed to succeed.
"Students have to take full ownership of their academic experience," she says.  "In working toward that goal, they need to gauge and assess their own understanding and progress.  In my new role, I'll work with both students and faculty to develop tools and practices that support and promote this type of academic engagement."
Coan's list of achievements includes receiving the Joseph Branch Excellence in Teaching Award, presented to her during the Wake Forest Founders' Day Convocation on Feb. 21, 2013, for her work in developing and directing the law school's Academic Success Program (now AEP). In addition, Coan was voted Legal Writing Teacher of the Year in 2005.
Before joining Wake Forest, she was associate counsel for Jefferson Pilot Financial (now Lincoln Financial Group), a national financial services organization, and an associate with Brooks, Pierce, McLendon, Humphrey & Leonard, LLP, a leading business law firm in Greensboro, N.C. Visit her faculty profile here.
Recent Posts
July 14, 2020

July 13, 2020

July 13, 2020