Main Content
A message from Kris Shelton, instructional designer, Center for Leadership and Character at the Wake Forest School of Business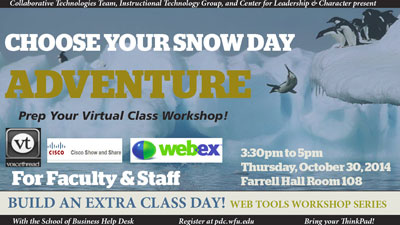 Snow days are coming! Last winter, Wake Forest University had 10 days where classes were either delayed or cancelled due to snow and ice. To help faculty and staff across the University be prepared to use technology to run a virtual class during a snow day, the Center for Leadership & Character is co-sponsoring with the Collaborative Technologies Team and the Instructional Technologies Group the "Build an Extra Class Day! Web Tools Workshop Series."
The "Choose Your Snow Day Adventure" workshop, the first in the Web Tools Workshop Series, will be held on Thursday, Oct. 30 from 3:30 to 5 p.m. in Farrell Hall, Room 108.
The hands-on workshop includes a brief overview of three virtual classroom technologies: Voice Thread, Show and Share and WebEX. Faculty can walk away with their own virtual class prepped to launch at a moment's notice for a snow day.
Using readily available technologies, faculty can deliver content to students online, synchronously or asynchronously from home. All that is needed is a computer or mobile device and an internet connection. Instructors can deliver slides, videos, spreadsheets, images or Web pages and narrate using messaging, voice or a webcam. Learners can participate by offering discussion and comments via messaging, voice or webcam as well.
The Web Tools Workshop Series is open to all faculty and staff. Workshops are self-contained and do not need to be taken in sequence. Register for the "Choose Your Snow Day Adventure" at the PDC.
For those who may not be able to attend the workshop, the Snow Day Technologies website features technology overviews, quick reference guides, instructional videos and help links for support.
Recent Posts
July 13, 2020

July 13, 2020

July 10, 2020