Main Content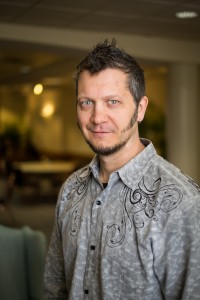 Brent Piper, director of design in Communications and External Relations (CER), has been elected president of the Triad N.C. chapter of the American Institute of Graphic Arts (AIGA), the professional association for design. AIGA brings together designers and provide resources for the design community.
AIGA Triad N.C. was founded in December 2012. Piper, who was elected in July, will continue to guide and grow the chapter.
"To have a professional group that is able to engage graphic designers in the Triad has been a long time coming," Piper said. "A lot of hard work has been put into getting it started.  I want AIGA to become a strong force for graphic designers in the Triad and better our community."
Among Piper's first duties as president was moderating the INitiative [INHOUSE] Panel Discussion, which brought together creative directors from Krispy Kreme and Under Armor, as well as Wake Forest executive creative director Hayes Henderson, to examine what it means to work as an in-house designer. Piper hopes to hold similar discussions during his two-year term as president.
Recent Posts
June 5, 2020

June 4, 2020

June 3, 2020