Main Content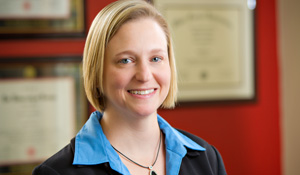 For the last four years, Allison McWilliams has been involved in the Women's Leadership Council (WLC) of the United Way as a volunteer, donor, and since 2012 as a member of the county-wide steering committee.
McWilliams ('95) is director of the Mentoring Resource Center at Wake Forest and understands better than most people how vital it is to our community to meet the WLC's mission of educating, engaging and empowering women to meet the most pressing needs of Forsyth County.
"The Women's Leadership Council (WLC) is, to put it simply, more than 1,000 women across Forsyth County who are committed to affecting positive change in the community that we call home" says McWilliams. "Thanks to the generosity of a matching challenge grant from BB&T (previously funded by Reynolds American), women are given the opportunity to join at the Leadership Circle giving level ($1,000) through an initial $500 annual contribution. Each year your contribution "steps up" by $100 while the grant "steps down" an equivalent amount until you reach the $1,000 annual giving level on your own."
Currently, the WLC is aligned with United Way's goal to improve the high school graduation rate from 71% to 90% by 2018. The WLC focuses its efforts on the middle schools in our community and provides much needed resources to support tutoring, family engagement and other programs to ensure that students are prepared and ready for high school. This is perfectly consistent with Wake Forest's commitment to Pro Humanitate.
WakeUnited provides opportunities to join great programs like the WLC and to make a direct, meaningful impact in our local community.
"I firmly believe that you should live where you live; whether it's for six months or six years, you should care about what happens to and in the community you call home," says McWilliams. "I don't have children in the Forsyth County schools, but I know that my life is better off when the children of our community are educated. That's why I have supported WakeUnited since I arrived at Wake Forest in 2010, and that's why I will continue to do so."
Recent Posts
May 22, 2020

May 20, 2020

May 19, 2020