Main Content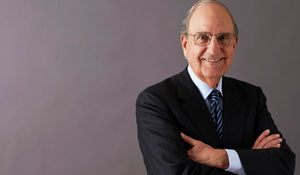 On Wednesday, the University welcomes former United States Senator and distinguished author, George J. Mitchell to campus for participation in The Leadership Project.
This initiative is designed to celebrate the many ways leadership development is taught and inspired at Wake Forest and to engage members of our community with compelling personal leadership stories from a wide range of experiences and perspectives.
Mitchell will participate in a discussion with 300 student leaders from all areas of the University, including the College and the Schools of Business, Divinity, Law and Medicine. Students for the invitation-only event were nominated by faculty and staff.
The talk will be available via live stream Wednesday from 5-7 p.m. at lead.wfu.edu and will be archived on the site for future access.
Mitchell will discuss his guiding set of leadership principles and how they developed through his upbringing, mentorship experiences, role in resolving international conflict and life as a political leader.
Regarded for his bipartisanship and international relations, Mitchell was voted for six consecutive years "the most respected member" in the Senate and considered one of Time Magazine's 100 most influential persons in the world. He brokered the historic Northern Ireland Peace Accords and served as U.S. Special Envoy for Middle East Peace. His published works focus on conflict management, diplomatic skill, and inclusive and ethical leadership. For additional information about Mitchell, see his biography here.
Recent Posts
May 22, 2020

May 20, 2020

May 19, 2020