Main Content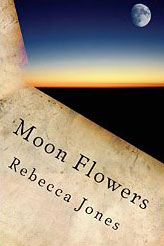 It's no secret that life can be difficult. But for Rebecca Jones, an IT project coordinator at Wake Forest, challenging times lead to valuable lessons. Inspired by requests to share her stories with churches and civic organizations, Jones wrote "Moon Flowers," a collection of essays about lessons learned along life's journey.
Q.   When did you decide to write "Moon Flowers?"
A. I love to tell stories about things that have happened to me. Everything that happens, good or bad, has a purpose and a lesson that teaches us how to be better people or how to help others who are experiencing something similar. At one particular event someone told me how much a story I had shared helped her. She asked me if I had considered compiling my short stories and essays for a book. I had been journaling for a while and had a collection, so I sat down this summer and put them together.
Q. What event in your life was particularly inspirational?
A. One vivid memory was when writer, editor and teacher Emily Herring Wilson ('62) came to the Z. Smith Reynolds Library looking for a publisher for her friend, John Jamison, in Asheville, N.C., who had been writing a novel. All the publishers she had contacted said it would take months before they could look at his work. The problem was John did not have months, as he had been diagnosed with cancer. I had just self-published "Recipes from Little Miss Muffin Bakery and More," and I was asked if I would be willing to take a look at his manuscript. Jamison's book, "Hunters' Paradise," went to press April 2013. I was able to make his last wish on earth come true.
Q: Do you plan to write another book?
A. If I write in the future, it would probably be more stories and essays that are inspirational. "Moon Flowers" is a short read, yet packed with life lessons, inspiration and hope. That is what I want people to take away.
"Moon Flowers" is available for purchase at Barnes & Noble and Amazon.
An excerpt from "Moon Flowers" on John Jamison's battle with cancer
The Last Accomplishment
"He had not been feeling well, so he visited the doctor for some tests. When he returned home he was asked to come back to the office. His doctor greeted him ashen-faced to tell him he had a tumor in his pancreas and it had spread to his liver, spleen and some lymph nodes. It was cancer. He said oddly enough that he found himself comforting the doctor. He assured the doctor that he was all but finished with his first novel, and when it was published he would be ready to say goodbye to his friends and family.
I got a call from his wife that he had taken a turn for the worse. He was taken to a Hospice House not far from where he lived. The proof copy arrived on Maundy Thursday. I had it shipped overnight. On Good Friday of 2013 he was alert, awake, talking with family and friends and it was a day without pain. His wife said she had not told him about the proof copy. She did not want to disappoint him. But when she handed him the UPS box, he was surprised and wondered what was in the box. She told me that when he pulled out the paperback copy of Hunters' Paradise that he cried tears of joy! She said it was a true Easter miracle for their family.
On Friday, April 19, 2013 he died. But he will never be forgotten. The last accomplished was not really about having a novel published; it was about having relationships healed with his son. I hope his son accepted the olive branch."
Recent Posts
May 22, 2020

May 20, 2020

May 19, 2020