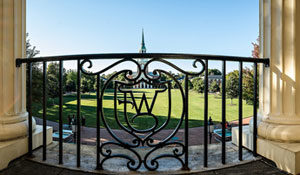 In another demonstration of Wake Forest's commitment to creating an inclusive environment for every member of our community, President Nathan Hatch has established the President's Commission on LGBTQ Affairs, charged with evaluating the status of campus life, climate, and equity for lesbian, gay, bisexual, transgender, queer and questioning members of the Wake Forest community.
The Commission follows the 2011 establishment of Wake Forest's LGBTQ Center, and ongoing Safe Zone Training and is made up of faculty, staff and students convened by President Hatch and charged with evaluating the status of campus life, climate and equity for Wake Forest's LGBTQ community.
The Commission will conduct a campus-wide assessment of LGBTQ issues and concerns through the use of forums, listening groups and surveys. It will also conduct research on best practices at other institutions in order to propose solutions to challenges faced in our own community.
"The formation of this Commission is a critical step in demonstrating our unwavering commitment to providing a safe, equitable and inclusive campus," says President Hatch. "Only by listening to members of our community can we address the needs and concerns of Wake Forest LGBTQ students, faculty, staff, alumni and allies."
Vice President of Campus Life Penny Rue has been named chair of the commission.
Other members include:
Carmen Canales, Chief Human Resources Officer
Brook Davis, Assoc. Professor of Theatre
Kriss Dinkins, Director of Knowledge and Service Support
Brett Eaton, Assoc. Vice President of Communications and External Relations
Shannon Gilreath, Assoc. Professor of Law and Women's, Gender and Sexuality Studies
Adam Goldstein, Dean of Students and Assoc. Vice President of Campus Life
Todd Hairston, Assoc. Athletic Director of Compliance
Gracie Harrington, Wake Forest Senior
Shonda Jones, Assoc. Dean of Admission and Student Service, School of Divinity
Rogan Kersh, Provost
Jennifer Killingsworth, Asst. Director of General Accounting and President of WFU's Staff Advisory Council
Sonia Kuguru, Wake Forest Senior
Angela Mazaris, Director of the LGBTQ Center
Reid Morgan, Senior Vice President and General Counsel
Barbee Oakes, Asst. Provost for Diversity and Inclusion
Mark Petersen, Vice President of University of Advancement
Penny Sinanoglou, Asst. Professor of History
Lynn Sutton, Vice Provost
Jose Villalba, Assoc. Dean of Faculty Recruitment and Diversity and Inclusion
Ex Officio
Mary Pugel, Chief of Staff, President's Office
Commission Staff
Rob Powell, Program Coordinator, LGBTQ Center and Women's Center
Kimberly Quick, Wake Forest Fellow, President's Office
The Commission will meet four times during the 2014-15 academic year.  The group will present their findings and discuss recommendations with the President and other senior university leaders at the conclusion of the academic year.
Recent Posts
September 25, 2023

September 21, 2023

September 20, 2023