Main Content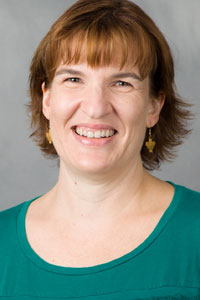 A guest post by Roz Tedford, director for research and instruction, and politics and international affairs liaison, Z. Smith Reynolds Library
We are bombarded with information every day. Some is important, some is interesting and some is simply noise. Taking time to attend to the important and interesting bits while filtering out the noise is both healthy and important. It is also the foundation of intellectual wellbeing.
Eleanor Roosevelt said "I think, at a child's birth, if a mother could ask a fairy godmother to endow it with the most useful gift, that gift would be curiosity." Curiosity is the very heart of intellectual wellbeing. It is not about knowing anything in particular, it is about being open to learning new things no matter where you are – in a class, at dinner with a new friend or watching television when you can't sleep. So click that interesting link online and read that book that catches your eye.
Whether you love the American Revolution, Marvel Comics, Film Noir, baseball cards or Tchaikovsky – engaging with it and indulging it can enrich your life in unforeseen ways. Ultimately intellectual wellbeing is about making time to stimulate our brain in the same we make time to exercise our body, practice our religion, bolster our relationships or help those in need.
We are so fortunate to work on a campus that makes it so easy to find ways to stimulate our minds! In September, join a panel discussion featuring Winston-Salem/Forsyth County Public Schools Superintendent Beverly Emory on humanities in public education.  Or head over to Reynolda House for a gallery talk on "The Art of Seating" exhibition. The Museum of Anthropology provides intercultural learning opportunities throughout the year.
Combine learning and the arts by attending a Secrest Artists Series event, many of which offer pre-performance talks. Hear Northwestern University's Harris Feinsod discuss Pablo Neruda and Inter-Americansm. The Hip Hop Fellow is on the calendar as well. And put yourself in another's shoes by attending a Mainstage theatre production.
Watch your email for "Next Week at Wake,"  a roundup of activities, lectures, performances and professional development classes. You can follow @WFUCalendar and @InsideWFU on Twitter for regular news and updates about what's happening on campus.
And finally, come by the Intellectual Wellbeing tables at the Thrive launch on Sept. 5th and tell us about your favorite book, a WFU experience that changed your views, a skill you would like to master – and make a pledge to make time for your mind in the upcoming year!!
Recent Posts
July 2, 2020

July 2, 2020

June 30, 2020