Main Content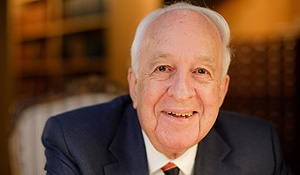 On Thursday, Oct. 30, at 7 p.m. at the Porter Byrum Welcome Center, Professor Emeritus of English and Provost Emeritus of Wake Forest University Ed Wilson ('43) will receive the North Carolina Humanities Council's highest honor, the John Tyler Caldwell Award for the Humanities.
The award recognizes Wilson for his lifelong achievements as an advocate for the public humanities across North Carolina. The Caldwell Award ceremony is free and open to the public.
Affectionately known as "Mr. Wake Forest," Wilson has spent more than six decades on the Wake Forest University campus, first entering in 1939 for his bachelor of arts degree. After serving three years as an officer in the United States Navy during World War II, Wilson returned to his alma mater as an instructor and was named Professor of English in 1959. Over the years Wilson taught British Romantic Poets and the poetry of Blake, Yeats, and Thomas.
Wilson served as a North Carolina Humanities Council trustee from 1977-1980. He is also active with various arts-related organizations, which include Piedmont Opera Theatre, the Winston-Salem Arts Council, the North Carolina Arts Council, and Reynolda House Museum of American Art. In addition to serving as Wake Forest's representative to the National Collegiate Athletic Association (NCAA) and to the Atlantic Coast Conference (ACC), Wilson has served as president of the ACC.
In 2004, Wilson received the Medallion of Merit, Wake Forest's highest award for service to the University. He is the recipient of the Reinhardt Award for Distinguished Teaching; the North Carolina Award for Public Service; and the Distinguished Alumni Citation. In 1991, the University opened the Wilson Wing, a 53,000-square-foot addition to the Z. Smith Reynolds Library named in his honor.
Wilson is married to the poet and author Emily Herring Wilson. They are the parents of three children and have four grandchildren.
The John Tyler Caldwell Award for the Humanities has been presented annually since its inauguration in 1990. Named for its first recipient, the late John Caldwell, former chancellor of North Carolina State University from 1959-1975 and a founding member of the Humanities Council, the award pays tribute to individuals whose life and work illuminate one or more of the multiple dimensions of human life where humanities come into play.
Recent Posts
May 22, 2020

May 20, 2020

May 19, 2020