Main Content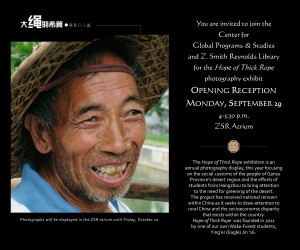 In 2011, junior business and enterprise management major Ying'er Jin helped create a project in his home country of China called "Hope of Thick Rope," an annual photography display and fundraising effort.
This year's focus is on the social customs of the people of Gansu Province's desert region and the efforts of students from Hangzhou to bring attention to the need for greening of the desert. The project has received national renown within China as it seeks to draw attention to rural China and the socio-economic disparity that exists within the country.
The Center for Global Programs and Studies and the  Z. Smith Reynolds Library are hosting an opening reception for faculty, staff and students on Monday, Sept. 29, from 4-5:30 p.m. to welcome the student representatives accompanying the exhibit.
The photographs will be on display in the library atrium through October 10.
Recent Posts
May 22, 2020

May 20, 2020

May 19, 2020