Main Content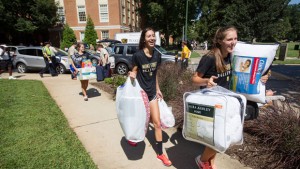 The following message is sent on behalf of Residence Life and Housing.
Wake Forest will welcome a new freshman class early on Thursday, Aug., 21, when new student move-in begins at 8 a.m. For faculty and staff scheduled to be on campus that busy morning, the University has recommendations for where to enter campus and park.
The University is committed to making the move-in experience the best possible time for our students and their families, and as convenient as possible for faculty and staff. Thanks in advance for your assistance and flexibility as we welcome the newest Demon Deacons to campus!
New student move-in traffic and parking
On Aug. 21, faculty and staff should enter campus through the Polo Road entrance. New students and their families will be encouraged to enter campus via the University Parkway and Reynolda Road entrances.
Heavy traffic is expected throughout the day beginning around 7 a.m. as families arrive. Due to the increased traffic, faculty and staff seeking to park on campus are encouraged to arrive on campus early. The Hearn Plaza lots will be available for faculty and staff parking. However, the University asks that faculty and staff avoid parking on South Campus (Lots E, G, H and J) and in Lots Q and W1/W2 to allow parking for our new students and their families.
Faculty and staff may also park in the lots on either side of Long Drive, near Winston-Salem First Church and Polo Road.  A shuttle bus will provide transportation to and from those lots and campus from 7 a.m. to 6 p.m.
The University will continue to run the Gray Line shuttle that normally operates between University Corporate Center and campus.
Vendor and delivery restrictions for Aug. 21
To aid with traffic management, the University asks that departments instruct vendors not to deliver to campus until after noon on Aug. 21. Additionally, vendors are asked to park only in designated parking spaces and to utilize dumpsters for trash. Delivery vehicles larger than a box truck should not plan to enter campus on Aug. 21 due to limited parking and increased traffic.
Returning student traffic and parking, Aug. 23 and 24
The University will welcome back its returning students on Saturday and Sunday, Aug. 23 and 24. Faculty and staff will not be able to park in Hearn Plaza lots (Lots A, B, C, M, N, P) as those will be entirely reserved for move-in. Additionally, faculty and staff are asked to avoid Lots Q, R and Z to allow our returning students a smooth move-in.
Deliveries taking place on Aug. 23 and 24 should expect slower travel due to limited parking and increased traffic.
Recent Posts
May 30, 2020

May 29, 2020

May 29, 2020