Main Content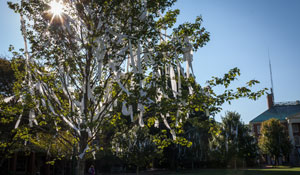 A guest post by Kathy Arnett, director of the Student Union and James Buckley, director of the Benson University Center
Social wellbeing is the result of our positive and regular interactions with others in a variety of settings. Studies have shown that development and sustenance of our relationships is vital to happiness.
Contrary to pop-culture-fueled perceptions, social interaction isn't just for kids anymore. In fact, the older you are, the more you need it.
Below is the Arnett and Buckley "Top 10 Ways to Get Social at WFU" where faculty and staff can enjoy some time with each other and with students. Think about your top 10 and get busy being social.
The List
10. Attend the President's Ball. The event is held once every two years. Next date will be in 2015.
9. Catch a great movie in HD in Pugh Auditorium every Friday at 7 p.m. Free popcorn included!
8. Test your skills at Tuesday Trivia every Tuesday at 8 p.m. in Shorty's.
7. Relax and enjoy your lunch with friends on the Benson patio. Let the sunshine, fresh air and good company rejuvenate you.
6. Make plans to attend the World Cultural Festival on Sept. 26 at 5 p.m. on Manchester Plaza.
5. Stop by Zick's for lunch or dinner, enjoy indoor and outdoor dining along with free pool, air hockey and foosball. Check out Zick's Underground.
4. Watch for free activities throughout the year around campus such as: High Tea, Cookies & Milk, Apples & Cider, S'mores and cookouts.
3. Show your Deacon spirit at the Homecoming bonfire on Thursday, Sept. 18 at Davis Field.
2. Let your inner child out enjoy Wake Forest's fun outdoor games and activities on Hearn Plaza and Manchester Plaza.
1. Celebrate the Deacs after every win. Roll the Quad!
Recent Posts
May 30, 2020

May 29, 2020

May 29, 2020