Main Content
A message from Facilities and Campus Services
Parking Lot Closures:
Beginning Monday, Aug. 25, Parking Lot X will be closed for 2-3 weeks, pending weather. This parking lot will be closed due to the intramural field renovation project. Parking spaces in Lot X will gradually re-open as the project progresses. Here is a link to the campus parking map for reference to this parking location.
Contact Alex Crist at 336-758-2558 with any questions.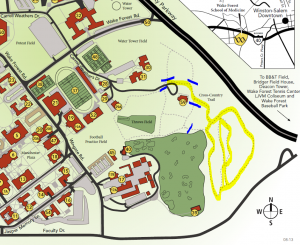 Partial closure of cross-country trails:
The construction for the McCreary Field House has begun. Part of the cross-country trails will remain open during the construction. Access to the trails on campus will be behind The Barn; with the trails from The Barn toward Faculty Drive area open during the construction. There will be barricades and signs on the trail indicating where the trails are closed due to the construction zone. Please do not cross into the construction area for safety reasons.
See the map for barricade locations shown as blue lines. Areas highlighted in yellow indicate trails that are open and accessible to runners.
Contact Wendy Wooten at 336-758-5689 or wootenwr@nullwfu.edu with any questions.
Recent Posts
May 28, 2020

May 22, 2020

May 20, 2020