Main Content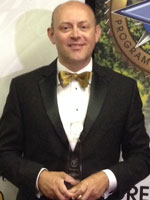 Matthew Lawrence, custodial services training manager, was named Trainer Of The Year at the annual (OS1) Users Symposium in San Antonio, Texas.
(OS1) is a brand of team cleaning that differs from traditional, or zone cleaning. In zone cleaning, a worker is assigned to an area and carries out all the tasks necessary to clean a zone. In team cleaning, each cleaning worker is a specialist and carries out a specific task throughout the building.
Wake Forest began its implementation of team cleaning in September 2009 with a pilot team of four people on 3rd shift with Lawrence as manager. Team cleaning has now been implemented in all academic buildings.
Wake Forest University Custodial Services was also nominated for awards in Rookie Of The Year (Farrell Hall), Best (OS1) Audit, Best Cleaning Quality Improvement, Innovation, Workloading, Communications, Safety and Health, Training Program and Best Cleaning Program.
Facilities and Campus Services would like to thank all of Wake Forest's dedicated and hard working custodians, and recognize the teams in Farrell Hall and Reynolda Hall for scoring 89 percent and 87 percent respectively on their annual audits.
Recent Posts
May 22, 2020

May 20, 2020

May 19, 2020