Main Content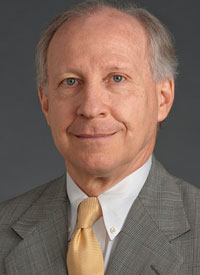 John Boehme, Wake Forest Baptist Health's associate vice president for academic and administrative systems, has been named Reynolda Campus Interim CIO. Prior to assuming his current position, Boehme was the associate dean for academic computing for WFUHS and also served for two decades as a senior leader in WFU's Department of Radiology, where he did groundbreaking research in medical imaging management systems.
Along with his leadership of the Medical Center's computing and information systems team, Boehme has been a key member of the Reynolda Campus Information Technology Executive Council (ITEC).  He has also been a leader in seeking to bring high performance computing to the Triad, beginning with his work to help create the WinstonNet system and serving for years as its president. Boehme also represents Wake Forest University as Chair of the Microelectronics Center of North Carolina Advisory Committee that operates the North Carolina Research and Education Network (NC REN).
Boehme assumed his role July 1.

Recent Posts
May 22, 2020

May 20, 2020

May 19, 2020