Main Content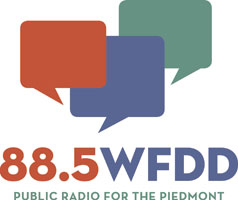 88.5 WFDD, the public radio station licensed to Wake Forest University, has won three national awards for excellence in radio broadcasting.
The station received two awards from Public Radio News Directors Incorporated (PRNDI), an organization committed to the highest standards of journalistic ethics and excellence, which recognizes the best of local public radio news in a wide array of categories, and one Gabriel Award from The Catholic Academy of Communication Professionals, which created the award in 1965 "to recognize outstanding artistic achievement in a television or radio program or series which entertains and enriches with a true vision or humanity and a true vision of life."
Both are annual competitions.
88.5 WFDD received the Gabriel Award in the category of Arts-Local Release for a Triad Arts Weekend episode entitled "From Graphic Design to Geek Girl Rising," a show that covered SECCA's Graphic Design: Now in Production exhibit and the Comic Book City Con in Greensboro, with a special panel discussion called "Geek Girl Rising." The episode aired on October 25, 2013.
From PRNDI, 88.5 WFDD received a First Place award in the Commentary category for a Real People, Real Stories commentary called, "Fight or Flight," in which commentator Tracy Morrison describes how she managed her fear after her five-year-old son received a diagnosis of diabetes. The commentary was broadcast on October 7, 2013. The station also received a First Place award in the category of Best News Feature for "Possible Twist in Winston-Salem Northern Beltway." This story, concerning a lawsuit regarding Winston-Salem proposed 34-mile Northern Beltway, was produced by Kathryn Mobley and aired on March 5, 2013.
88.5 WFDD's general manager, Tom Dollenmayer, expressed support and enthusiasm for the News and Triad Arts teams, adding that, "they are dedicated to bringing substantive stories and news reports to our listeners on a daily basis. These awards recognize the hard work of all members of the teams."
Dollenmayer also announced that at the end of July, Emily Blacklin McCord will join the 88.5 WFDD staff as news director. McCord comes to 88.5 WFDD from Public Radio station WYSO in Ohio, where she served as news director. She received a Bachelor of Arts degree in music from the University of North Carolina at Greensboro and has more than a decade of experience in public radio news. Her reporting has earned her numerous AP awards, as well as a Gabriel Award.
88.5 WFDD, Public Radio for the Piedmont, is a broadcast service of Wake Forest University and is the only public radio station of its kind located in the Piedmont Triad. It broadcasts news, information, and public affairs programming covering the arts, people, and institutions in the area from its Winston-Salem studios. The state's charter NPR® member, 88.5 WFDD is the longest continuously-broadcasting public radio station in North Carolina.
Recent Posts
May 22, 2020

May 20, 2020

May 19, 2020