Main Content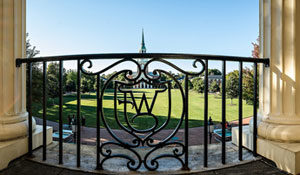 Congratulations to the 2013-14 Leadership Development Program (LDP) participants: Miriam Ashley-Ross, Nate French, Allison McWilliams, Tim Auman, Anne Hardcastle, Paige Meltzer, Alessandra Beasley Von Burg, Robert Hellyer, Matt Merrick, Andrea Bohn, Beth Hoagland, Lori Messer, Christy Buchanan, Brad Jones, José Villalba, Thomas Dowling, Angela Mazaris, Ron Von Berg
Program participants included 18 faculty and staff from various departments across campus that serve in leadership roles.
The nine-month program kicked off last August with a two-day intensive session structured around a 360° assessment for each member. The developmental topics offered throughout the year included: Leading Authentically, Communicating Authentically, Powerful Conversations, Reinventing Diversity, Thriving in Times of Change, Leading with Your Strengths, and Leading Authentically: Putting it all Together.
The program concluded with a capstone project presented to the Reynolda Cabinet on creating a global Wake Forest.  The project encompassed:
Defining a Global Wake Forest
Framework for a Global WFU
Key Recommendations
Measuring the Impact
Guiding Principles
Program Design
Opportunities to learn more about the capstone project will be offered in the fall.
The Leadership Development Program is open to administrative senior leaders and tenured faculty members who are in leadership roles, or who have a desire to attain one in the future. Participants meet for monthly sessions throughout the academic year that focus on critical leadership/management topics, as well as individual coaching to focus on personal desired outcomes. Program participants also work in small teams on project ideas identified within the Strategic Plan or provided by the Cabinet. The LDP is offered every other year.  The next program will begin in Fall 2015.
Learn more about leadership and management opportunities at Wake Forest on the PDC website.
Categories: Faculty News, Staff News
Tags: Alessandra Beasley Von Burg, Allison McWilliams, Andrea Bohn, Angela Mazaris, Anne Hardcastle, Beth Hoagland, Brad Jones, Christy Buchanan, Jose Villalba, Leadership Development Program, Lori Messer, Matthew Merrick, Miriam Ashley-Ross, Nate French, Paige Leslie Meltzer, Robert Hellyer, Ron Von Burg, Thomas Dowling, Tim Auman
Recent Posts
August 6, 2020

August 5, 2020

August 5, 2020