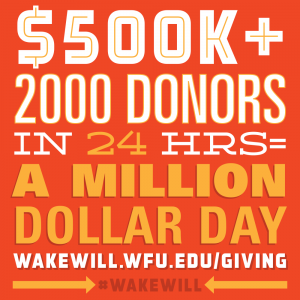 Today is the launch of what we hope will be a record-setting million dollar day for the Wake Forest Fund.
If we can raise $500K or secure 2,000 donors for The Wake Forest Fund, generous donors have pledged to match that with an additional $500K.
There will be emails, phone calls and a social media blitz to help us reach our goal in 24 hours. Here are a few ways that you can join the cause and help us make history:
Spread the word to alumni, parents and friends by using #WakeWill
Share via your personal Instagram, Facebook or Twitter accounts and use #WakeWill
Thank you in advance for your support.