Main Content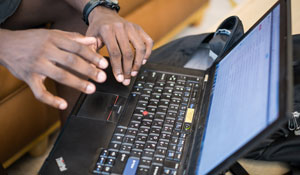 A message from Associate Provost for Technology and Information Systems Rick Matthews.
Please join us for TechXploration on Tuesday, April 8, between noon and 3 p.m. in Benson 401 to learn what your colleagues are doing with technology.
Presentations will be in poster session format, so join us for any portion of the event.
Presentations will include:
e-Books Made Easy – Digital Publishing
Client 2014 – Next Year's Laptop Program
Google Glass: Hands-on
Searching, Saving, and Sharing with Social Bookmarking
Assistive Technologies for Students With Visual Impairments Taking STEM Courses
ZSRx: Lifelong Learning for the Wake Forest Community
Comparing the Online and Blended Classroom
STEP Program Presentations
An Update on the Where Are You From? Project: Short Video Essays and Peer-to-Peer Learning
And many more!
Recent Posts
May 22, 2020

May 20, 2020

May 19, 2020