Main Content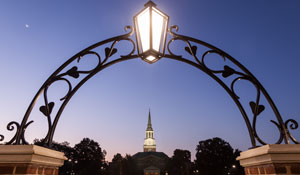 Wake Forest graduate school is accepting applications for the Masters in Liberal Studies (MALS) program. The program offers a broad, interdisciplinary course of study without requiring a GRE for admittance or a thesis paper for completion.
The MALS program offers students an opportunity to explore a full range of interactive liberal arts classes. Adults who enroll in the MALS program gain new information, new perspectives and new insights.
Students who would like to begin the Liberal Studies program this summer, must apply before May 16. The $75 application fee will be waived for anyone referred by a MALS alumnus between now and August 15. Applications are available online here.
Two summer courses are being offered:
"Bodies, Commodities & Global Environments:" First summer term, May 27 – July 2, meets on Tuesdays and Thursdays from 6 to 9 p.m. Nathan Roberts, a visiting instructor in Wake Forest's history department, will teach the class. robertne@

null

wfu.edu
"Bollywood: Culture and Identity in Modern India:" Second summer term, July 8 – August 7, meets on Tuesdays and Thursdays from 6 to 9 p.m. Assistant Professor of History Raisur Rahman will teach the class. rahmanmr@

null

wfu.edu
About the MALS degree
Completion of the degree requires 11 courses, totaling 33 hours. During the student's final semester, he or she will write a synthesizing essay that draws together their personal experience in the Liberal Studies program.
To be eligible for admission, an applicant must have received a bachelor's degree from an accredited institution prior to enrollment in MALS. Admission is based on the level of success in the previous degree program, the clarity and richness of the applicant's educational and life goals, and the applicant's general potential for successfully engaging in graduate level work within the program.
A tuition concession plan for faculty and staff of the University (both Reynolda and Bowman Gray campuses) and for the spouses of faculty and staff is available. For further information, please contact the Human Resource office on the appropriate campus.
There are three terms each year: fall, spring and summer. Students may begin the program in any term. Part-time students usually take one or two courses a term and can graduate in three or four years, but are allowed up to six years to complete the degree. Applications are accepted on a rolling basis.
More than 40 Wake Forest employees have completed the program since it began in 1987.
Keep up with the MALS program on Facebook and follow @WFUMALS on Twitter.
Recent Posts
May 22, 2020

May 20, 2020

May 19, 2020