Main Content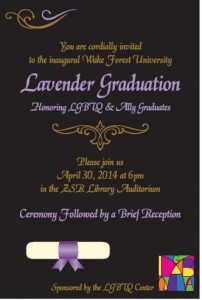 The LGBTQ Center will hold Wake Forest University's first Lavender Graduation Celebration on April 30 at 6 p.m. in the Z. Smith Reynolds Auditorium. The ceremony will celebrate LGBTQ students and allies who have contributed to the rich diversity of our campus community.
J. Robby Gregg Jr. ('83) will be the keynote speaker. Gregg is a nationally recognized diversity expert with more than 20 years experience in designing and executing multi-platform diversity strategies in the areas of organizational management, human resources, communication and marketing, and corporate responsibility. His expertise includes developing workplace inclusion initiatives that increase opportunities for professionals from all segments of society, especially those with disabilities.
Students need to register to be honored.
Recent Posts
May 22, 2020

May 20, 2020

May 19, 2020