Main Content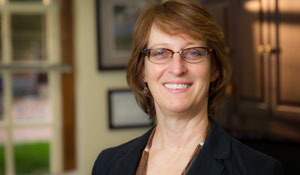 Dean of the College and Reynolds Professor of Computational Biophysics Jacque Fetrow has been appointed Provost at the University of Richmond.
As Dean since 2009, Fetrow's tenure has been marked by a strong reaffirmation of the College's signature tradition of close student-faculty engagement, with support for the URECA Center, development of the Office of Academic Advising, and fundraising to support initiatives led by the Associate Dean for Student-Faculty Academic Initiatives. Her support for Wake Forest's teacher-scholar model has been integral in U.S. News & World Report's 11th place ranking for "Best Undergraduate Teaching" this year, as well as the school's highest-ever ranking among national universities at 23rd.
"Jacque has been a much-valued steady hand at the helm during turbulent times for a liberal arts education nationally," said President Nathan Hatch. "I have prized her leadership and integrity, as well as her good counsel on all matters affecting the College as well as Wake Forest as a whole."
Fetrow has been a central figure in Wake Will: the Campaign for Wake Forest, helping to secure over $180 million in gifts and pledges for student scholarships and financial aid, faculty and departmental support including facilities improvements, and strategic initiatives. She also made great strides in aligning the College's financial and budgeting processes with evolving University systems, and extensively reorganized the structure and management of the Dean's Office and College more broadly.
"Jacque has been a key partner in virtually every significant issue and initiative arising at Wake Forest since I arrived in 2012," said Provost Rogan Kersh. "I will greatly miss her creative imagination, her knack for envisioning positive solutions to problems within our budget constraints, and valued friendship."
Throughout her deanship, Fetrow has sustained an active research program, closely involving both graduate and undergraduate students – including Wake Forest's 2012 Rhodes Scholar – in her landmark work on protein structures and functions in the drug discovery process. She and colleagues in computer science developed a course that won the Wake Forest Teaching and Learning Center Innovative Teaching Award in 2006.
She currently serves as Secretary-Treasurer of the Protein Society, and is on the Board of Directors of QuantumBio, an early-stage biotechnology software company. Prior to coming to Wake Forest in 2003, Fetrow served as chief scientific officer and director of GeneFormatics, a biotechnology software company. She also served on the faculties of the Scripps Research Institute and the University at Albany in New York. She earned her Ph.D. in biological chemistry from Pennsylvania State University and her B.S. at Albright College.
At the University of Richmond, she will also hold an appointment as Professor of Chemistry. She will begin her term on July 1.
Senior Associate Deans Rebecca Thomas and Randy Rogan, along with Associate Deans Anne Boyle, Christy Buchanan, David Levy, and José Villalba, will continue to work with Dean Fetrow in leading the College's regular operations. A search advisory committee will soon be named to begin the process of choosing a successor as Dean of the College.
Recent Posts
May 22, 2020

May 20, 2020

May 19, 2020