Main Content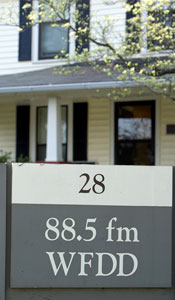 For the fifth summer, WFDD is hosting several sessions of Radio Camp, a week-long experiential learning camp for middle-school-aged children interested in technology, writing, journalism and the world of radio. This summer, the station is adding two new offerings to its already-popular camp lineup: Rock Radio Camp and Radio Camp for Grown-Ups.
"Since the launch of Radio Camp in 2010, we've received multiple requests for a version of Radio Camp for adults," said WFDD's Director of Membership and Education Programs Greg Keener. "The audience asked, and we listened. Why should kids have all the fun?" The Radio Camp for Grown-Ups session scheduled for August 2 and 9 is already sold out with a waiting list, but due to the overwhelming demand, the station has added an additional session that will take place on the mornings of Saturday, May 31, and Saturday, June 7. Radio Camp for Grown-Ups will be taught in part by former NPR newscaster and reporter Paul Brown, also a former news director and program director of WFDD. During the camp sessions, participants will learn how to record an interview and narration, edit audio and produce a three-minute oral history radio story.
From August 4-8, WFDD will offer Rock Radio Camp, in partnership with The Garage, a live music venue in the Downtown Winston-Salem Arts District. This version of Radio Camp will focus on recording live music and conducting interviews with musicians and is geared toward kids aged 14 to 17. Participants will work as a group to produce a radio segment similar to WFDD's Live in Studio A. Rock Radio Camp will feature some special guest speakers and will include a live lunch-time concert at The Garage on Thursday, August 7.
Also new this year, Radio Camp Greensboro will take place at the studios of WQFS, the student radio station at Guilford College. This will allow students participating in the Greensboro camp to have access to a fully-functional radio station and its studios, as well as classroom space.
All pieces produced during Radio Camp sessions will be broadcast on WFDD.
Camp sessions range in price from $175 to $200. Registration and more information are available on WFDD's website, www.wfdd.org.
88.5 WFDD, Public Radio for the Piedmont, is a broadcast service of Wake Forest University and is the only public radio station of its kind located in the Piedmont Triad. It broadcasts news, information and public affairs programming covering the arts, people and institutions in the area from its Winston-Salem studios. The state's charter NPR® member, 88.5 WFDD is the longest continuously-broadcasting public radio station in North Carolina.
Recent Posts
June 5, 2020

June 4, 2020

June 3, 2020