Main Content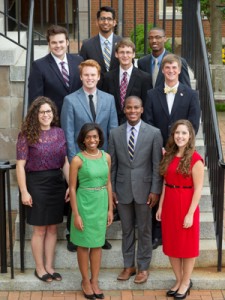 Ten seniors will remain at Wake Forest following graduation as Wake Forest Fellows, working in the President's Office, Information Systems, University Advancement and in other offices.
Each fellow will be a full-time University employee for a year. In addition to working in a particular department, the fellows will participate in leadership activities and interact with top administrators and faculty to learn about higher-education administration.
The Wake Forest Fellows for 2014-15 are:
Joseph Belangia: Information Systems
Le'Ron Byrd: Z. Smith Reynolds Library
Zach Garbiso: Office of Personal & Career Development
Rebecca Gleichenhaus: START Gallery
Blake Harrison: Wake Forest Baptist Medical Center
Logan Healy-Tuke: Advancement
Paige Horton: Campus Life
John Allen Riggins: President's Office
Kimberly Quick: Provost's Office
Muhammed Siddiqui: Dean of the College
Established by the President's Office in 2008, the fellows program grew out of the University's Strategic Plan as a way to provide highly capable graduates a chance to work in higher-education administration for a year.
Recent Posts
July 2, 2020

July 2, 2020

June 30, 2020