Main Content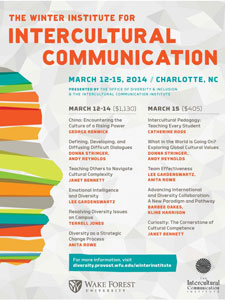 The Wake Forest University Office of Diversity & Inclusion and the Intercultural Communication Institute will host the first Winter Institute for Intercultural Communication, a four-day professional development conference that will be held at the Wake Forest Charlotte Center in Charlotte from March 12-15.
A limited number of scholarships are available for Wake Forest faculty, staff and students. If you are interested in being considered for a scholarship, please click here to apply.
The Winter Institute is a condensed version of the Summer Institute for Intercultural Communication, which has been hosted by the Intercultural Communication Institute for the past 30 years. The purpose of the Winter Institute is to provide a broad range of educational opportunities regarding intercultural communication to individuals working in various sectors, including education, business, and consulting in both domestic and international contexts.
Attendees will be able to select from several one- and three-day workshops on a broad range of topics from "China: Encountering the Culture of a Rising Power" to "Resolving Diversity Issues on Campus." Participants will not only benefit from workshops that are led by renowned facilitators but will also gain exposure to a growing network of intercultural and diversity professionals.
The cost of registration for is $405 for one day workshops and $1130 for three-day workshops. Registration includes workshop participation, materials, continental breakfast and lunch.
For registration and additional information, visit http://diversity.provost.wfu.edu/winterinstitute.
Recent Posts
May 22, 2020

May 20, 2020

May 19, 2020