Main Content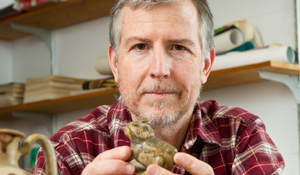 Stephen L. Whittington, director of Wake Forest's Museum of Anthropology, has accepted a position as executive director of the National Mining Hall of Fame and Museum in Leadville, Colo.
As of March 3, Sara Cromwell will serve as interim assistant director and will be responsible for the day-to-day operations of the Museum. Steven Folmar, assistant professor of anthropology, will serve as interim academic director.
During Whittington's 12-year tenure, the Museum of Anthropology has been recognized for:
Creating award-winning national, regional and state publications, exhibits, website, and collections preservation efforts
Providing digital access to the collections through the Online Artifact and Archives databases;
Receiving more than $400,000 in grants from agencies and foundations, including three from the Institute of Museum and Library Services and two from the National Endowment for the Humanities;
Development of vibrant and popular K-12 educational programs; and
Collaborating with Delta Arts Center, Guilford Native American Art Gallery, Reynolda House Museum of American Art, St. Bonaventure University, Winston-Salem/Forsyth County School District, and Wake Forest departments and offices.
"I want to thank the members of the MOA advisory  board and MOA friends for their encouragement and support, and Wake Forest University for providing the collections with a safe and secure off-site curation facility," Whittington said.  "I particularly want to acknowledge my hard-working and dedicated staff including, Beverlye Hancock, Myrna Mackin, Kim Robertson, Anne Gilmore, Sara Cromwell, Kyle Bryner, and Tina Smith, as well as numerous student employees and interns, without whom none of our accomplishments would have been possible."
Recent Posts
May 22, 2020

May 20, 2020

May 19, 2020