Main Content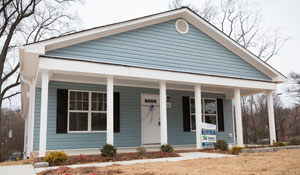 Wake Forest volunteers from the Reynolda Campus and the medical center worked together to build a Habitat for Humanity house in Winston-Salem.
The house was dedicated Jan. 28.
Construction on the house began Aug. 28 with several hundred members of the Wake Forest community — including faculty, staff and students — contributing their time and skills to the project.
The heated, 1,450-square foot house features four bedrooms, a porch and a partial basement.
"I speak for everyone at Wake Forest in saying that we are honored to have played a part in the building of this beautiful home," said President Hatch at the dedication event. "Together, we have all worked toward making this community the best it can be."
Sylvia Oberle, the executive director of Habitat for Humanity of Forsyth County, expressed gratitude for Wake Forest's efforts.
"Habitat appreciates the ongoing partnership with Wake Forest, which to date has resulted in three Habitat houses. For many, it has been a great team-building experience, in addition to working alongside the homeowners. We are grateful for Wake Forest's continued support for families in our community."
The Teel family, who will move into the house, put in 400 hours of "sweat equity" working on their home and other Habitat houses.
Recent Posts
May 22, 2020

May 20, 2020

May 19, 2020