Main Content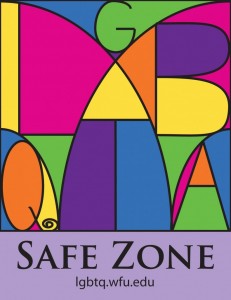 Spring 2014 Safe Zone training sessions are open for registration.
The Safe Zone program is an in-depth, interactive presentation designed to educate Wake Forest faculty, staff and students about the LGBTQ community. Anti-LGBTQ bias and prejudice affects all members of a community, and we all have the opportunity to work against it. Participants learn what it means to be an ally—a person who supports and stands up for the rights of LGBTQ people—as well as how to create a Safe Zone. Allies who have completed the training program will be given a Safe Zone sticker, identifiable to the entire campus, which may be displayed on the ally's door to designate it as a safe place for all members of the community.
To sign up for a Safe Zone training session, register on the PDC website.
Available sessions:
Feb. 28, 2014 – 9 a.m. – 12:30 p.m.
March 18, 2014 – 6 p.m. – 9:30 p.m.
April 16, 2014 – 1 p.m. – 4:30 p.m.
Follow Wake Forest's LGBTQ Center on Twitter @wfu_lgbtq
Recent Posts
May 22, 2020

May 20, 2020

May 19, 2020