Main Content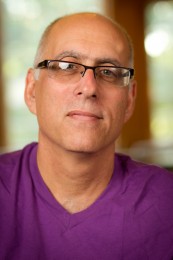 Peter Gilbert, professor of practice in the communication department and a faculty member in Wake Forest's Documentary Film Program (DFP), traveled to Park City, Utah, on Jan. 18 to celebrate the 20th anniversary of "Hoop Dreams" at the Sundance Film Festival.
Gilbert was producer and director of photography for this documentary film, which focuses on the lives of Arthur Agee and William Gates as they journey to become basketball stars. The film won numerous awards, including Audience Award for Best Documentary. "Hoop Dreams" was originally intended to be a 30-minute short to be completed in three weeks and aired on PBS. However, it involved five years of filming that resulted in 250 hours of raw footage. The movie turned out to be 2 hours and 55 minutes long.
Gilbert's emphasis on filmmaking is in telling a compelling story. In addition to teaching graduate courses, he teaches undergraduate courses for students studying in a variety of disciplines. In the classroom, he emphasizes that storytelling skills are essential for students in any major, no matter their career path.
Gilbert joined Wake Forest in 2011 with a three-year faculty appointment in the Documentary Film Program.
Last spring, a group of undergraduate students collaborated with third-year MFA students from the DFP on The Imagination Project: Artists of the Holocaust, a group of short films on five artists of the Holocaust to be shown Feb. 12 at Scales Fine Arts Center.
Currently, Gilbert is working with third-year graduate students who serve as co-workers and mentors to undergraduates on "The Imagination Project: Filipino Street Art," where the focus is again on the creation of short digital films.
Read more:
"An oral history of 'Hoop Dreams,' 20 years after its premiere" by Jason Guerrasio.
2014 Sundance Film Festival Announces 20th Anniversary of Hoop Dreams as 'From the Collection' Screening
Peter Gilbert Q&A With Sarah Boerkircher, Assistant Director, News & Communications
Recent Posts
May 22, 2020

May 20, 2020

May 19, 2020