Main Content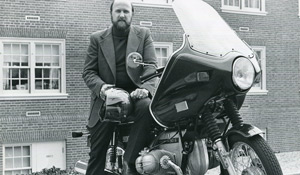 John H. Litcher (P '83, '85), who taught a generation of education students how to become great teachers, died Feb. 22 after a lengthy illness. He was 75.
Litcher was also regarded for his community service and was a support team member and a past president of the Lewisville (NC) Fire Department.
A celebration of life service will be held at 2 p.m. on March 8 at Lewisville Fire Department Station 13, 9420 Shallowford Road, Lewisville, N.C.
Litcher joined the faculty in 1973 and taught social studies education, human geography and environmental studies before retiring in 2004. "My tenure at Wake was a continued blessing, and I have many special memories of the administration, the staff, and most importantly the delightful students," Litcher wrote in his first-person obituary.

"Dr. L," as he was known, was remembered by former students and colleagues for his enthusiasm, compassion and gentle nature. He inspired many students "to follow their hearts into the education field," said Kimberly Harviel Sue ('82), a former middle school teacher. "He made us realize that learning for us and for our future students should be fun. He always had a smile on his face and so we knew that he was enjoying himself. That was the kind of teacher that I wanted to be, and he modeled that for all of us."
His passion for teaching was infectious, said Allison Hawley Simmons ('07). "I remember him pulling up to Tribble on his motorcycle, chatting to students on his way up to class. He was bubbling with excitement before every lecture, so much so that he never wanted his class to end. Students loved him and respected him. He was everything you wanted in a professor. It's teachers like him that made my Wake Forest experience so special."
Litcher started every class with a joke, remembered Professor of Education Joseph O. Milner. "He was a man of huge energy and great compassion," Milner said. "He showed how much he cared (about students) and went out of his way to help them."
In addition to his service with the Lewisville Fire Department, Litcher was also a volunteer with Crisis Control Ministries and Youth Opportunities Homes. He received Wake Forest's Schoonmaker Award for Community Service in 1998.
A native of Winona, Minn., Litcher served in the U.S. Navy in the late 1950s. He graduated from Winona State University and received his master's and Ph.D. from the University of Minnesota. He taught in the Minnesota public schools and at the University of Florida before coming to Wake Forest. He also taught at the South Carolina Governor's School for the Arts and Humanities.
He is survived by his wife, Ramona; and three children and their spouses, Jade ('83) and his wife, Cathi; Jeff ('85); and Danta Mills and her husband Randy; and four grandchildren.
Memorials may be made to the Kate B. Reynolds Hospice Home, 101 Hospice Lane, Winston-Salem, NC 27103; the Lewisville Fire Department, 9420 Shallowford Road, Lewisville, NC 27023; or Rushford Lutheran Church, P.O. Box 399, Rushford, MN 55971.
— By Kerry King, Wake Forest Magazine
Recent Posts
May 22, 2020

May 20, 2020

May 19, 2020