Main Content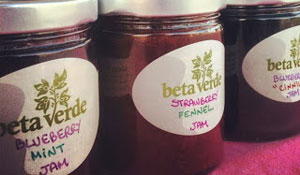 Margaret Norfleet Neff and Salem Norfleet Neff, the mother/daughter founders and directors of Beta Verde will share information about their local food venture on Wednesday, Feb. 19, in the Scales Fine Arts Center Lobby from 4:30 – 6 p.m.
Beta Verde produces locally sourced jams, pickles, and syrups and was featured nationally in Slow Food USA. Beta verde is located in Winston-Salem on a 16-acre urban farm. The enterprise founded and manages the Old Salem Cobblestone Farmers Market, ranked 11th nationally by U.S. News and World Report in 2012.
The Beta Verde team is working with students and staff at Wake Forest through interdisciplinary courses that explore the impact of women entrepreneurs at the local and global levels. Anne Boyle, associate dean for student-faculty academic initiatives, will introduce the Norfleet Neffs and talk about the innovations of this campus-community effort and Margaret and Salem's role as mentors and collaborators.
Enjoy seasonal fare and learn about current needs and future aspirations for sustaining life and community both on the campus, in Winston-Salem and in the world.
Recent Posts
June 5, 2020

June 4, 2020

June 3, 2020