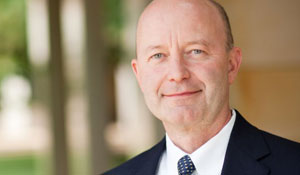 Associate Clinical Professor of Law Steve Virgil has been named executive director of experiential education for the Wake Forest University School of Law.
In his new role, Virgil will both support existing programs, including clinics, internships, externships and practicum extensions, and seek out new opportunities for meaningful experiential education. He will also provide support to faculty who integrate practical training into their doctrinal courses.
The position was created, in part, to help the law school adhere to proposed new standards set by the American Bar Association for oversight of experiential learning.
Virgil has served as founding director of Wake Forest's Community Law and Business Clinic since 2008 and is also the founding director of the Institute for Public Engagement, a university-wide institute that promotes community based participatory research and engaged teaching.
He has practiced law for more than 20 years with an emphasis on community economic development and the nonprofit sector. His clients include nonprofit organizations of all sizes and scope, from neighborhood associations to major private foundations and he maintains an active pro bono public interest litigation practice.
He teaches courses on community economic development, poverty, evidence and the nonprofit sector.
Recent Posts
June 5, 2023

June 1, 2023

June 1, 2023