Main Content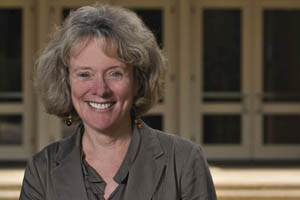 Suzanne Reynolds, executive associate dean for academic affairs and professor of law at Wake Forest, kicked off a 10-day visit of a delegation of women leaders from Kosovo to the Triad with a presentation, "Women's Leadership in Law and Politics," on Friday, Jan. 10, at the law school.
Selected for her expertise in scholarship and teaching about family law as well as her extensive public service, Reynolds also shared her experiences encountering the "glass ceiling" in her law career. Participants in the program had the opportunity to meet LL.M students from Kosovo currently studying at the Wake Forest law school.
The visit by the delegates from Kosovo is sponsored by the Open World Program and involves working with American counterparts and facilitating continued relations though alumni networks and home hosts. The Open World Program, an exchange and partnership program designed to enhance understanding and cooperation between Eurasian and American leaders, is funded and operated by the Open World Leadership Center, an independent government agency of the U.S. Congress.
Winston-Salem and Greensboro, N.C., are official host cities of the Open World Program and the host organization is Friendship Force of Central North Carolina.
Recent Posts
May 22, 2020

May 20, 2020

May 19, 2020