Main Content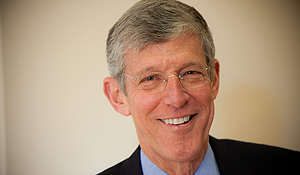 Winston-Salem Journal reporter Richard Craver recently interviewed retiring business school dean Steve Reinemund.
Reinemund discussed his role as dean and his legacy.
"When Steve Reinemund became dean of Wake Forest School of Business in July 2008, he was determined to give students a hands-on, real-world taste of the challenges and opportunities of corporate America. That included helping them understand how preparation, integrity, having a moral compass and a willingness to lead are values that not only produce success in business, but also in life," writes Craver.
"My experience in the business world is that when most people get into trouble on issues, they are making a spur-of-the-moment decision when their moral compass isn't properly calibrated," Reinemund told Craver. "If you haven't thought about the context in which you are making your decision, you can allow the pressures of the moment to allow you to give into the temptation. I believe in the 4 Cs  of leadership – character, competency, commitment and compassion."
The story, "Retiring dean of Wake Forest School of Business believes in 4Cs of leadership" ran Sunday, Jan. 19.
Recent Posts
May 30, 2020

May 29, 2020

May 29, 2020