Main Content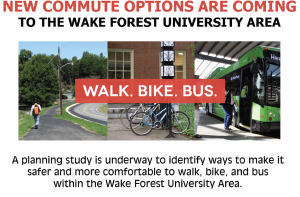 A public meeting will be held on Thurs., Jan. 16, at 7 p.m. to present the recommendations of the Wake Forest University Area Bicycle, Pedestrian, and Transit Study.  The meeting will be held in the Winston Room of the Joel Coliseum located at 2825 University Parkway.
The study addresses both infrastructure and policy recommendations to improve bicycle, pedestrian and transit amenities and usage between the Wake Forest campus and surrounding neighborhoods.  The general boundary for the study area is an approximate two-mile radius around the Reynolda campus.
Visit the bicycle, pedestrian and transit study website for more information.
Recent Posts
May 22, 2020

May 20, 2020

May 19, 2020