Main Content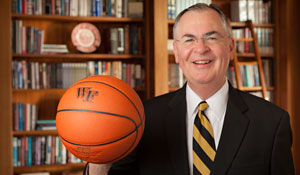 President Nathan O. Hatch is leading the conversation about NCAA governance reform efforts, a focal point of the NCAA annual convention in San Diego this week.
Hatch, the Division I Board Chair, told Associated Press sports writer Mike Marot on Jan. 15 that he wants to see the NCAA become more strategic, to give more autonomy to some of the most powerful conferences and to give athletic directors a stronger voice in decision-making.
"There are huge issues that face the NCAA — what's the nature of amateurism, what's the nature of injuries, what do you do when there's a strong critique that it's all about the money, what do you do to preserve academic integrity? That's what the board should be dealing with," Hatch told the AP in a story that ran in news outlets nationwide.
He also outlined his thoughts for "Streamlining the NCAA" in an op-ed published in the U-T San Diego over the weekend.
…[M]ost importantly, the board must become more of a champion for the core values that enliven the NCAA. College athletics, like American politics, can, at times, seem all about the money. Fully aware of these pressures, the board must reassert the core responsibility of its member institutions to student-athlete well-being and serious academic purpose," he wrote.
Recent Posts
May 22, 2020

May 20, 2020

May 19, 2020