Main Content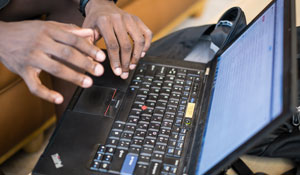 Don't be the (phishing) catch of the day.
As an email user in today's cyber world, you will most likely receive phishing emails that appear to be sent from a reputable organization such as your bank or even Wake Forest University. The emails ask you to click on a link to provide your passwords, credit card numbers, social security number, etc. Protect your data and the University's data by not responding. Be skeptical.
Wake Forest will never ask you to provide personal information in an email message.
In order to protect you, your data and the University's data, Information Systems will disable your computing account and contact you if you responded to a phishing scam.
If you have any questions about this message or about suspicious email messages, always contact the Information Systems Service Desk at help@nullwfu.edu. We want to hear from you.
Coming Soon! Changes to your WFU Google account sign-in page
Google is changing the look and feel of the sign-in page for your WFU account. The basic Google sign-in page will replace the customized Wake Forest sign-in page. You will soon be required to enter your full Wake Forest University email address including "@wfu.edu."
Recent Posts
May 22, 2020

May 20, 2020

May 19, 2020