Main Content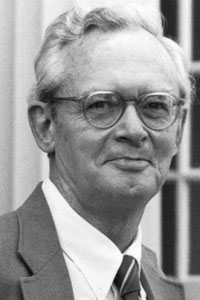 By Kerry M. King ('85)
Wake Forest Magazine
Lee H. Potter, who survived the torpedoing of his troop transport ship during World War II and went on to have a long teaching career at Wake Forest, has died.
Potter, professor emeritus of English, died on Jan. 17, at his home in Durham, N.C. He was 89. A funeral service will be held at 2 p.m. on Jan. 28 in Few Chapel at Croasdaile Village in Durham.
He is survived by his wife, Edith; four daughters, Page, Edith, Lee and Jane; and six grandchildren.
Potter taught in the English department from 1965 to 1989 and was a part-time instructor in the MALS program until 1995. He taught at Wake Forest's overseas programs at Casa Artom in Venice in 1973 and 1981 and at Worrell House in London in 1978. In addition to teaching undergraduate courses on literary criticism, American literature and 20th century British literature, he also advised a number of graduate students.
Kevin P. Cox (MA '81), director of crisis communications and community relations at Wake Forest, said Potter influenced many students. "Lee took a genuine interest in his students. He expected much of us and he wanted us to succeed. I remember thinking back in graduate school that Lee was exactly the kind of professor I hoped to find at Wake Forest."
When he retired in 1989, Wake Forest Magazine described Potter as "witty, urbane, erudite, courtly, with the gentle cynicism of a born and bred Southerner … Students have found (his) English classes an eclectic survey of music, art, and history as well as literature."
Provost Emeritus Edwin G. Wilson ('43) was chairman of the English department when Potter joined the faculty. He was a "superb teacher and a great friend who was always willing to do whatever he could for Wake Forest," Wilson said. "He was the most loved man in the department. He was a Southern gentleman who had all those traditional virtues, but at the same time, he was a person who wholeheartedly welcomed change and new people to the department."
Lisa D. Brewer ('81, MA '08) was one of several former students who remembered Potter on the Wake Forest Magazine Facebook page.
"He was one of several fine WFU English profs who were simply too good to be true," Brewer wrote. "Truly a favorite of mine."
A World War II veteran, Potter survived the German torpedoing of his transport ship, the SS Leopoldville, in the English Channel on Christmas Eve in 1944. Some 2,200 members of the 66th Infantry Division were on their way from Southampton, England, to Cherbourg, France, to join the fighting at the Battle of the Bulge when their ship was attacked; about 800 soldiers were killed. Potter went on to serve in France until he was discharged in 1946. (Another future Wake Forest professor, Professor of German Ralph Fraser, also survived the sinking of the Leopoldville.)
A native of Atlanta, Potter attended Davidson College until enlisting in the U.S. Army in 1943. After the war, he received his master's degree and PhD. from the University of North Carolina. He taught briefly at DePauw University and the University of Virginia before serving as the first dean of George Mason College of the University of Virginia, later George Mason University.
Memorial gifts may be made to Wake Forest University to support scholarship funds for students studying abroad.
Read Lee Potter's obituary.
Share your memories of Dr. Potter on Facebook.
Photographs courtesy of Susan Mullally.
Recent Posts
May 22, 2020

May 20, 2020

May 19, 2020