Main Content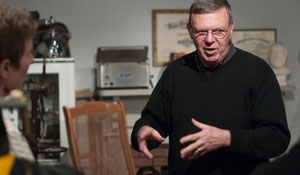 Ed Morris, director of the Wake Forest Historical Museum, was recently profiled in the Raleigh News & Observer by Marti Maguire.
"It's been about 180 years since Wake Forest College was founded on a plot of farmland northeast of Raleigh, giving birth also to the town that still bears its name," writes Maguire.
"The college, now Wake Forest University, moved to Winston-Salem in 1956. Yet the shared history of town and college is remembered in fond detail at the Wake Forest Historical Museum, where a wreath made from the hair of local residents shares billing with the original Demon Deacon tuxedo. Ed Morris has spent the past eight years breathing new life into the museum. He has helped assemble, in a new building, artifacts collected over more than 50 years to create a coherent tale of both town and college."
Read the full story here.
Recent Posts
May 22, 2020

May 20, 2020

May 19, 2020