Main Content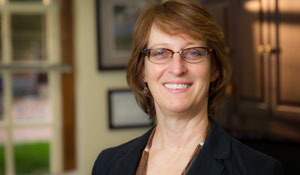 President Hatch and Provost Kersh are pleased to announce that Wake Forest College Dean Jacque Fetrow has been appointed to a second term in this vital role. Dean Fetrow took up her post in January 2009, and has presided over a historic set of College achievements, including WFU's highest-ever ranking, significant expansion of our superb faculty of teacher-scholars, and an array of innovative new or rejuvenated programs across all academic divisions.
"Jacque has been both a strong, creative voice in helping shape our university-wide goals and progress and a tireless advocate for College faculty, students, and staff," said Provost Kersh. "I've found her counsel invaluable and leadership steadfast; it's genuinely rewarding to work so closely together."
Dean Fetrow has also taken a central lead in the ongoing 'Wake Will' capital campaign; of our $600 million goal, well over half is sought for investments in the College, including student financial aid, academic programs and facilities, and faculty support.
Dean Fetrow has maintained an impressive scholarly record during her deanship. As Reynolds Professor of Computational Biophysics, she continues a research program focused on the relationship between protein structure, function and dynamics, devoted to improving the structure-based drug discovery process. Her national prominence in this field is affirmed in her selection for the Executive Council of the Protein Society, the Advisory Council for the National Science Foundation's BIO Directorate, and the Board of Directors of QuantumBio, an early-stage biotechnology software company.
Dean Fetrow joined the Wake Forest faculty in 2003, before which she served for five years as chief scientific officer and director of GeneFormatics, a biotechnology software company. She holds a U.S. patent for co-inventing GeneFormatics' primary technologies. She also served on the faculties of the Scripps Research Institute for two years and the University at Albany in New York for seven years. At Albany, she received both the Chancellor's and President's awards for excellence in teaching.
Recent Posts
May 22, 2020

May 20, 2020

May 19, 2020