Main Content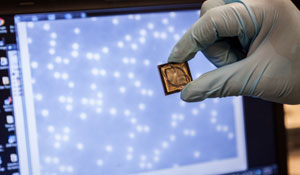 From fracking and 3D printing to the exploits of a local astronaut, a new radio program created by WFDD and SciWorks will explore the role of science in our lives.
SciWorks Radio kicked off Sunday, Jan. 12 with a segment on the geological history of the Piedmont. Host and producer Shawn Fitzmaurice, SciWorks' Planetarium technician, took listeners back in time to a Piedmont covered with mountains and volcanoes during the four-minute inaugural broadcast.
SciWorks Radio will air every Sunday at 8:34 a.m. on 88.5 WFDD. Future broadcasts will tap into the knowledge of local experts.
"Our vision and mission for SciWorks is to further scientific understanding and appreciation among the adults and children of The Triad and Northwest North Carolina," said Paul Kortenaar, executive director of SciWorks. "Through this exciting collaboration with WFDD, we are able to extend our mission of bringing the science happening right here to the entire community beyond the walls of the science center."
Recent Posts
May 22, 2020

May 20, 2020

May 19, 2020