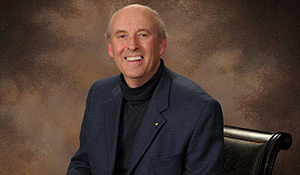 Dan Locklair's "The Playful Rainbow," with text by poet Fred Chappell, will premiere on Saturday, Nov. 2, at 7 p.m. at the by The Stevens Center of the UNC School of the Arts in Winston-Salem. It will be performed by the Winston-Salem Youth Chorus with Barbara C. Beattie, artistic and executive director, as part of its 20th anniversary concert.
Locklair is the composer-in-residence and a professor of music at Wake Forest.
Locklair says: "'The Playful Rainbow' was commissioned by the Winston-Salem Youth Chorus, and is warmly dedicated to them. The piece celebrates the 20th anniversary season of this outstanding chorus founded by Barbara Beattie. 'The Playful Rainbow' was completed in February 2013 and is a setting of four new and delightful poems by the distinguished American writer and poet, Fred Chappell."
The concert will feature about 100 current and former members performing the new work, as well as favorites from concerts performed during the past 20 years. Read about the concert here. For tickets, visit http://www.wsyouthchorus.org/ or call 336.703.0001.
In addition, Locklair's "Glory and Peace" will be performed by organist Thomas Murray as part of his recital on Wednesday, Oct. 30, at 7:30 p.m., at The Cathedral of St. John the Divine in Manhattan. This is presented as part of Great Music in a Great Space.